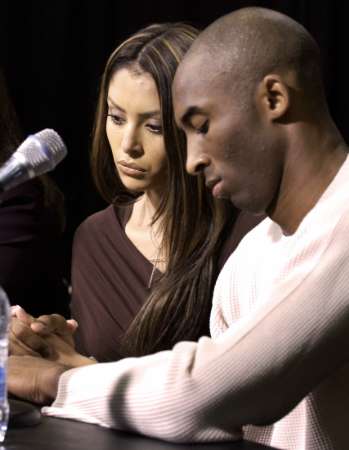 Is Kobe innocent or guilty?
Ed's sports thoughts of the week
(7-29-03) When I heard the news about Kobe Bryant being arrested I was shocked. The reason I was so surprised is because Kobe has never been in any trouble on or off the court. By all accounts he is a good teammate, good person and good family man. Living in LA I know and work with people that have interviewed and been around Kobe and they were equally shocked at the news of his arrest and the charges against him. Right now I believe that Kobe is innocent. However, that doesn't mean he is. As much as we all feel like we know our hereos because we watch them in person or on TV and follow their careers we don't really know what kind of people they truely are. We do know they are human beings and all human beings make mistakes. Even the ones that seem to be perfect and have it all. Still, based in Kobe's past and his clean track record I believe he should be given the benifit of the doubt. Regardless of Kobe's guilt or innocence I do not believe that he will ever do any jail time partially due to his celebraty status, partially due to his high priced lawyers and mostly due to his clean past. Because Kobe is a great player some fans, especially Lakers fans, will still root for him even if he is guilty which is very disappointing. It is equally disappointing that his acuser has had her picture, name, address and just about every other thing that can be found out about her plastered all over the internet. Weather she is found to be telling the truth or not, the actions of several thoughtless people in the media and internet will cause many rape victims to remain silent because they don't want thier attack to be made public. That is the most unfortunate thing of all.

Obviously this is a very relavent subject to me right now because of the situation envolving my favorite baseball team the Pittsburgh Pirates. For those of you that don't know the Pirates have decided to rebuild again and is trading just about all of their good players away for pretty much nothing. I'm pissed off. I'm so pissed off and tired of suporting a laughing stock of an organization I'm actually considering finding a new favorite baseball team. This is NOT something I do lightly. All my life I have been a Steelers fan, a Pirates fan and a LA Kings fan. I believe that sticking by your team through the ups and downs is what makes you a good fan and in the end is what being a fan is all about. My friend Doug is an Anaheim Angels fan. I'm sure there were times that he was tired of the losing, the blown opportunities and the bad moves by ownership and felt like taking his support elsewhere. Last season his loyalty was rewarded when the Angels won the World Series. I know that Doug's happiness and excitement was much deeper and heartfelt because he had been through the good times and the bad times. That having been said, with the price of going to a game being so high isn't it just being smart to only support good teams? You wouldn't got see a crappy band or see a bad movie over and over whould you? As smart consumers we must pick and choose how to spend our entertainment dollar wisely. If you really think about it, spending your money on a bad team is pretty stupid. It's a difficult desision that I'm wrestling with right now.
Ed's Bio
Born Oct. 16, 1969 in Honolulu, Hawaii. Raised in Porterville, California. Graduated from Monache High School 1988. 4 year letterman in football, 3 years baseball and soccer. Attended Fresno State University, Graduated in 1995 with a B.A. in Telecommunications. Has worked in radio for 9 years. Worked in T.V. for the Fox Sports Network for 2 years. Currently an update anchor for the Fox Sports Radio Network. Ed's favorite teams are the Pittsburgh Steelers, Pittsburgh Pirates, L.A. Kings and any Fresno State team. His greatest sports memories came in the year in 1979. As a 10 year old he watched Terry Bradshaw, John Stallworth and the Steelers beat the Rams in Super Bowl XIV, AND got to see Willie "Pops" Stargell and the "We are Family" Pirates beat the Orioles in the World Series. Last year's Fresno State football team is also a favorite. The Bulldogs posting three straight upsets of Colorado, Oregon State and Wisconsin to start the 2001 season and reach as high as number 8 in the national rankings. Worst sports memories include Sid Bream scoring from second base in game seven of the 1992 National League Championship Series to move the Braves past the Pirates and into the World Series, Neil O'Donnell throwing two interceptions right in the hands of Dallas scrub Larry Brown to lose Super Bowl XXX, and Marty McSorley's illegal stick that helped the Montreal Canadiens beat the LA Kings in the Stanley Cup finals. Favorite athletes are Lynn Swann, Roberto Clemente and Wayne Gretzky. Eddie is Single and lives in Los Angeles, CA



Ed is an update anchor for the Fox Sports Radio Network.

Where I work: Fox Sports Radio
Ed the weekend warrior
His prime may have past him by but Ed still loves to compete. He plays in the Western Pacific Hockey League.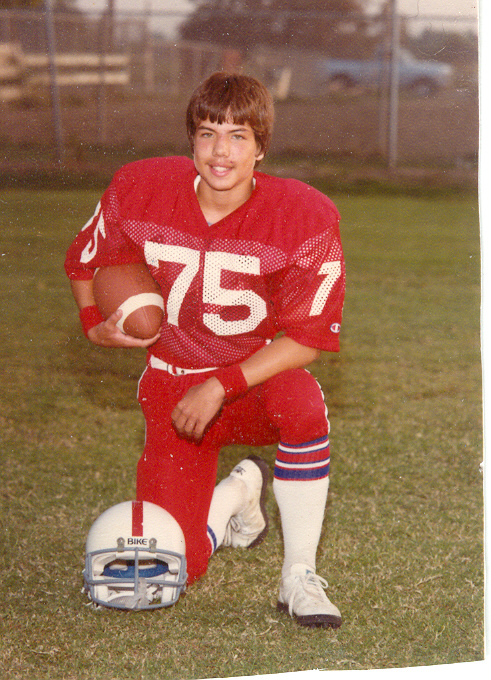 Ed's Pop Warner Days
Porterville Raiders Rule!